The Five Moments of Need in Knowledge Sharing Infographic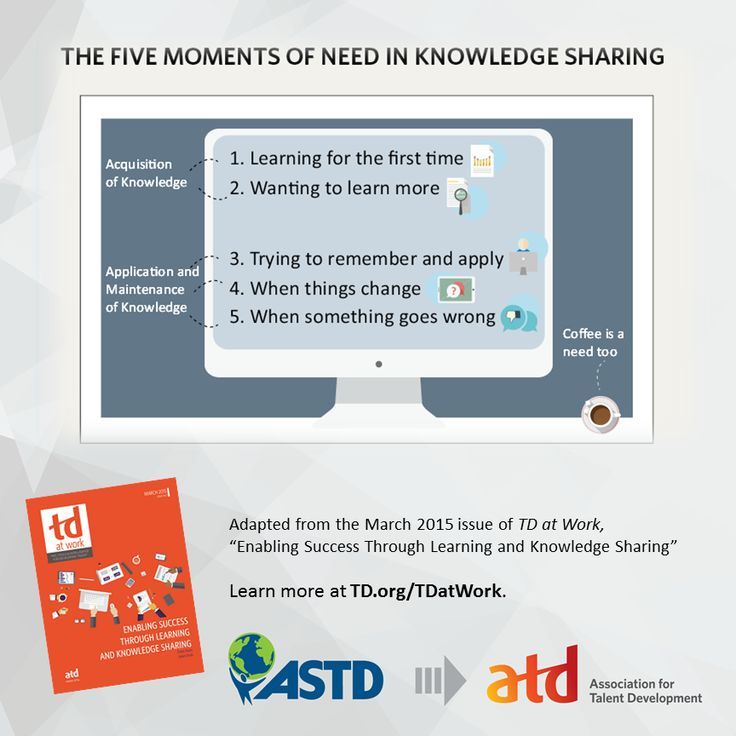 The Five Moments of Need in Knowledge Sharing Infographic
The Five Moments of Need in Knowledge Sharing Infographic is Adapted from the March 2015 issue of TD at Work, "Enabling Success Through Learning and Knowledge Sharing". The demand for knowledge is increasing every day, as is the sheer volume of knowledge that is available to an organization and its team members. According to the "Five Moments of Need" model set forth by Bob Mosher & Conrad Gottfredson, there are moments when a learner requires certain bits of information in order to perform assigned tasks more efficiently and effectively. In addition, these moments allow learners to expand their knowledge base and skill sets. As such, each "moment of need" should be viewed as an opportunity to improve performance and build upon learners' strengths while fine-tuning their weaknesses.
Five Moments of Need in Knowledge Sharing
Learning for the first time.
Expanding knowledge base.
Remembering and applying learned concepts.
When things don't go according to the plan.
When change occurs.
Read also:
Via: www.td.org
---